We're so happy to announce that we were invited to be keynote speakers at the Washington Association of Marriage and Family Therapy Conference this year!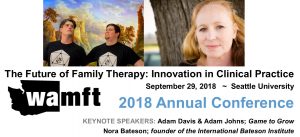 If you are interested in attending, you can
learn more and register here
.  Registration includes 7 CEUs (up to 6 CEs of Ethics available), plus tea and coffee, and lunch!
Here is a description of our keynote presentation:
Role-playing games like Dungeons and Dragons are in the middle of a resurgence in popular culture. Long gone are the days of satanic panic, and now tabletop games are coming out of the  basement and into the open, being featured on TV and in movies, and even being used in  therapeutic practice. For the last seven years, Adam Johns, LMFT, and Adam Davis, MAEd, have been using role-playing games with neuro-diverse teenagers, adolescents and emerging adults, helping them become more confident, creative and socially capable.

The concept of a role-playing game is this: players collaboratively create a story in which they  are each playing a unique character, often in a fantastic setting, while one of the players,  referred to as a game master, serves as the story's guide and rules referee. The players'   characters work together as a team, overcoming the challenges placed in front of them by the  game master, using dice to determine the relative success or failures of their attempts to  overcome the in-game challenges.

Johns and Davis serve as the "game masters" in their therapeutic social skills groups, designing in-game obstacles that mirror participants' real-world challenges, helping them translate the lessons and insights from the story to their own lives. The result is a transformationa experience that will influence the future of family therapy: participants look forward to therapy, excited to attend week after week. The approach developed by Davis and Johns has potential to serve a wider range of clients with a broader scope of challenges.
We're looking forward to this opportunity to share our work with a new generation of therapists interested in using games of all kinds to help their clients and their communities across Washington!