We're excited to see you this week for our hometown PAX! This September 2nd-5th, we're excited to connect with you at PAX West through workshops and panels on all sorts of geek-centric subjects, neat merch, and previews of Critical Core! We're grateful for the safety protocols being implemented this year to keep our community safe, and encourage you to check out the convention's health and safety guidelines. If you'd like to join in from the comfort of your own home, some of our panels will be streamed on PAX's twitch pages! 
Workshops
Interested in learning more about the world of applied games? Join us Friday for these interactive workshops! 
Sasquatch Theatre, 2:00pm PT – 3:30pm PT, Friday, Sept 2
Tabletop-role playing games can be utilized within a therapeutic framework to support client insight, growth, and change. Learn more about this innovative approach to group treatment in this interactive workshop! This workshop will introduce you to the literature that supports the use of TA-RPGs. We'll cover the basics of the Game to Grow Method of TA-RPGs, a relational and client-centered approach that supports social flourishing of clients. We'll also give you tools to talk to stakeholders such as clients, parents, and administrators about common goals and approaches within TA-RPGs.
Sasquatch Theatre, 4:00pm PT – 5:30pm PT, Friday, Sep 2
The use of games as a therapeutic tool is an emerging movement within the mental health field and video games offer a unique opportunity to support client growth. Minecraft offers a unique set of tools and experiences that can be utilized for growth, both in individual and group settings. This workshop will introduce you to the ways in which Minecraft can be used intentionally to support communication and collaboration with players. We'll focus on Game To Grow's use of Minecraft to facilitate therapeutic social skills groups and offer tips and tricks for those interested in using Minecraft within their own field of work.
Panels
Gaming, growth and more! Join us for these mental health, non-profit, and games – focused panels.
Sandworm Theatre, 4:30pm PT – 5:30pm PT, Saturday, Sep 3
Are you interested in working in the gaming industry? Always thought a nonprofit might be a good fit but not sure where to start? This panel is for you! We've collected a group of panelists who work in nonprofits in the gaming industry – they'll tell you tales of how they made it to their current position, and offer recommendations to those considering a shift into this space in the future. 
Horse Theatre, 7:30pm PT – 8:30pm PT, Saturday, Sep 3
Many autistic individuals struggle across social settings, but really shine behind a dungeon master's screen. Join our panel of autistic game masters to learn more about what makes tabletop role-playing games, and the GM seat specifically, such a good fit. We'll share some great stories and provide concrete tips for setting you and your party up for success on your next adventure.
Sphinx Theatre, 5:00pm PT – 6:00pm PT, Sunday, Sep 4

Individuals with ADHD often face challenges in work, school, social, and leisure settings. Additionally, many of those with ADHD may experience shame and low-self esteem related to their neurodivergent traits. Join this panel of ADHDers and mental health professionals to discuss how tabletop role-playing games helped them make friends, celebrate themselves, and fine-tune their strengths. As seen at PAX East and Unplugged – same concepts, new cast members!
Horse Theatre, 4:00pm PT – 5:00pm PT, Monday, Sep 5
Many streamers have an on-screen presentation, that while *part* of who they are, doesn't tell the whole story of them as a human. This can contribute to imposter syndrome, where you feel less competent than you are being perceived by others. Our panel of streamers and mental health experts will discuss the current research on imposter syndrome, share their own experiences, and offer practical advice to support your own well-being. 
Looking for more panels? Our staff are featured on these panels as well!

The Psychology of Pokémon: The Power to Catch 'Em All!
Horse Theatre, 2:30 PM – 3:30 PM PT, Fri, Sep 2 
Here to Stay: Marginalized Gender Identities in Gaming (13+)
Sandworm Theatre, 1:30pm PT – 2:30pm PT, Saturday, Sep 3
The Neurodivergent Gamer: Perspectives on Inclusion and Design
Sandworm Theatre, 3:00pm PT – 4:00pm PT, Saturday, Sep 3
Critical Core Demos
Critical Core is so much more than a tabletop role-playing game. Designed as an alternative to traditional social skills training programs, Critical Core invites players of all ages and experience levels to embrace the power of play for play's sake and enter a shared world of fantasy and social problem solving. In addition to being a fun and collaborative experience, Critical Core  builds social confidence and empowers its players to flourish socially on their own terms. Developed under the guidance of autistics, therapists, educators, psychologists and using the practices developed by Game to Grow, Critical Core will change the way you understand tabletop role-playing games.
This PAX West, we'll have opportunities for you to learn to play Critical Core in our demo games offered in the PAX Together Intersection. Come by and sign up for a game at the PAX Together Intersection!
PAX Together Intersection
Full of excitement about the life-enriching power of games? Us too! Swing on by to our booth in the PAX Together Intersection.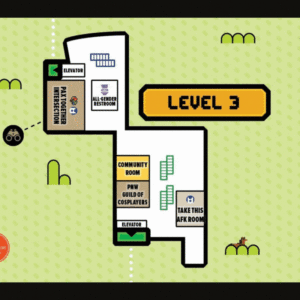 Learn more about our training program for mental health professionals, educators, and community members. 
Pick up your very own copy of Critical Core.
Become a member of Team Sprocket, and help us build a better world through games. 
Learn more about our D&D and Minecraft social flourishing groups for youth and adults.
Support our mission, and help us fund groups for hospitalized youth.