It was a spicy success!
On Saturday, October 9th, I joined the Penny Arcade Acquisitions Incorporated C Team for a special live fundraiser Dungeons and Dragons event with a spicy twist.  As viewers donated either through Twitch bits or through Game to Grow's Spice and Dice campaign on Tiltify, the players (myself included!) would eat spicier and spicier candy gummy goblins provided by Crawlspaces & Critters (who are currently live on Kickstarter!).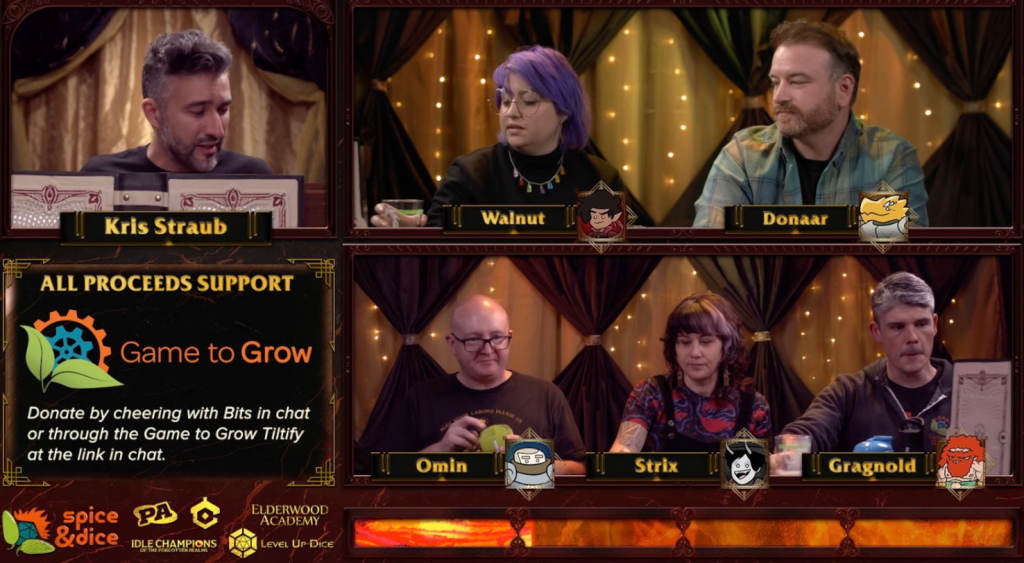 Since this was our first round of Spice & Dice, we weren't sure what the response would be. We aimed for a conservative $5,000 funding goal to start. As it turned out, we had nearly $4,000 in donations before the event had even started! Fans of Penny Arcade, especially those attending PAX Aus Online, really wanted to see the C Team eat these spicy gummies! We ended up blowing through the funding goals quickly, and including sponsorships, were able to raise around $15,000 in donations.  WOW!  A huge thanks to everyone who contributed to the event!
If you'd still like to support our mission, you can still make a donation to the Spice & Dice tiltify, and if you'd like to get your hands on some gummy goblins from Crawlspaces and Critters, check out their Kickstarter!
If you'd like to watch the antics, the Spice & Dice game is now on YouTube! (Language may not be appropriate for the whole family!)
Let us know if you'd like to host your own Spice & Dice fundraiser. We'd love to spread the heat joy!