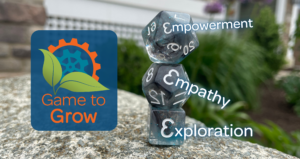 Most of our sessions at Game to Grow are around 90 minutes long. That's a perfect length for our young participants. But as the years have gone on and Game to Grow has gotten older, we noticed something. Our players have gotten older too!
We've heard feedback from our players, some who have been around from the very beginning, that they're looking for something new. Sometimes 90 minutes flies by way too fast. Sometimes you want a little more time to dive a little deeper with your characters. Some more time to explore the world and yourself. Well now you've got it!
We're happy to introduce our 3E series! Instead of meeting weekly for 90 minutes, we'll be meeting biweekly for 3 hour sessions. Each session will be dedicated to one of the three E's: Empowerment, Empathy, and Exploration. We look forward to continue growing with a participants and giving you all a different way to engage. 
Interested in more information? Click here or email groups@gametogrow.org