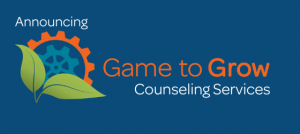 For years, Game to Grow has offered therapeutic social groups for youth using games. Our Dungeons and Dragons program has been recognized worldwide, and our expansions to include Minecraft and Magic: The Gathering have taken off. Now we are excited to announce the next expansion of our services to include individual counseling!
Learn more about this initiative
Dr. Jared Kilmer will offer individual and family counseling via telehealth to individuals residing in either Washington or Texas. Dr. Kilmer specializes in seeing geeks and gamers and has a wide range of treatment specialties. In addition to providing individual counseling services, he facilitates Game to Grow groups in Tacoma using Dungeons and Dragons, and has represented Game to Grow on podcasts and presentations around the country. Click here for Jared's full bio.
If someone you know could benefit from services, please refer them to www.gametogrow.org/counseling!