I'm excited to be returning to California this week to be a featured panelist at GameSchoolCon!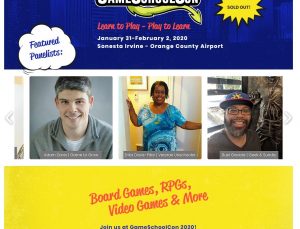 GameSchoolCon is a local con in Irvine, California dedicated to the concept of "Gameschooling," a practice very close to Game to Grow's mission: We can learn more when we're fully engaged, and we can be more fully engaged when we're playing and having fun. Read more about Gameschooling here.
I'll be speaking on three panels over the weekend, mostly covering Game to Grow's use of games in therapeutic social skills groups.  I'll speak to how we make games more inclusive, how we use them intentionally, and how we modify the rules of games like Dungeons and Dragons to be more accessible to neurodiverse populations.  I'm sure I'll talk at length about Critical Core as well!
To see my list of panel presentations, view my speaker page on the GameSchoolCon website.
Unfortunately, if you haven't purchased a ticket yet, they are sold out!  Keep your eye out for next year!