Critical Core was successfully funded on Kickstarter!
---
Harness the therapeutic power of intentional gaming with Critical Core.
After seven years of developing a therapeutic intervention modality using role-playing games like Dungeons and Dragons, we are excited to announce a new product from Game to Grow: Critical Core!

What is Critical Core?
Critical Core is a social-skills intervention in the form of a tabletop role playing game. Developed under the guidance of therapists and child psychiatrists and using the practices developed by Game to Grow's founders Adam Davis and Adam Johns, the game invites children to enter a shared world of fantasy, consequence, and social problem solving.
Critical Core combines modern developmental therapies with the mechanics of tabletop role-playing games to help kids connect with their parents, their friends, and the world around them. Players learn communication and collaboration skills, develop frustration tolerance and emotional resilience, and build empathy for others, all while rolling dice and having fun.
What's included?
Critical Core will be a boxed kit featuring rule books, character sheets, maps and more!
The box set includes everything needed to get started, whether you are an expert player or someone new to the world of tabletop role-playing games.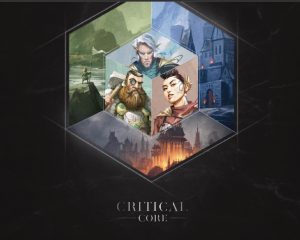 Who is Critical Core for? Do I have to be a therapist to use it?
Critical Core is for anyone who wants to support the autistic community with a new and innovative intervention. Over the last decade of experience, Game to Grow has seen just how powerful tabletop role-playing games can be as a support for young people, helping them build confidence, empowering success in group work, cultivating community, and enabling social flourishing. Young autistics are often deprived of opportunities to build social confidence in respectful environments. Critical Core provides a safe sandbox for developing social confidence and communication skills with dignity and autonomy while validating communication styles and building self esteem.
Critical Core will be accessible to therapists, educators, and parents, allowing them to use this tool with those in their own community. It will also be a tool for gamers—those who have felt the positive impact of games in their own lives—to give back. Critical Core will help game masters align their games to provide specific support to autistic players, supported by the methods and strategies used by experts in the field.
---
Critical Core was successfully funded on Kickstarter!