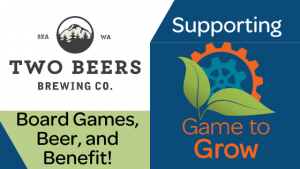 On Sunday, February 9th, from 1 PM – 5 PM, we'll be hosting a fundraising event at Two Beers Brewing Company in Seattle!
Come by to enjoy the libations, play some games, and help raise some funds to support our mission! There will be a silent auction, and if you bring a gently used game to be added to the silent auction, you'll receive 20% off of your bar tab!
Click here for more information and to RSVP on our Facebook page.
Because of the nature of the venue, guests must be 21+.
Let us know if you'll be there!