We'll be at PAX South this weekend! We'll be presenting a panel about Critical Core and sharing about our mission at our table in the Diversity Lounge, so make sure to come connect with us over the weekend! We'll also have LifeCogs and Pinny Pins at our table, so make sure to pick them up if you haven't yet!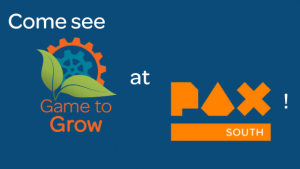 Our panel is Friday morning at 11:30 in Bobcat Theatre.
Critical Core: RPGs as the Future of Social Skills Enrichment
Critical Core is a therapeutic tool designed to harness the potential of table-top role playing, and collaborative gaming for social skill enrichment, social emotional development and executive skill building. Join us to learn about the origin story of Critical Core, the vision behind the game as a support for neurodiversity and how aspects of Critical Core can easily be applied in homes, therapy centers and classrooms!
You do not need to teach a social skills curriculum – harness the power of role playing games instead! Because the game taps into each child's inner drive the skills practiced and learnt generalize and will also be evident in home and classroom environments. Critical Core is a powerful therapeutic tool for parents, educators, therapists, mental health clinicians and is appropriate for school settings, clinics, mental health, hospitals and other settings.
We'll talk about Critical Core, some of the theoretical concepts behind it, and even give some sneak previews of our design!
Here's a link to the panel on the official PAX South site.
If you've seen us at cons in the last year, you're probably familiar with LifeCogs, a fundraiser and functional collectible created by Level Up Dice to support our mission.  There are many locations to get them this year, so make sure to check out the Life Cog Quest Map below!  There are also some limited-edition cogs to be given away over the weekend, so make sure to follow Game to Grow on Twitter!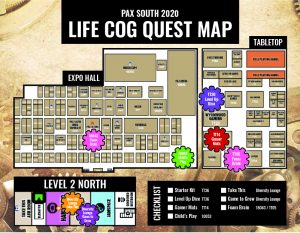 Happy trails!