We have a table at Orcacon this weekend, so come say hello, hear about our mission and our services, make a donation, and pick up some Game to Grow swag, like pins and LifeCogs!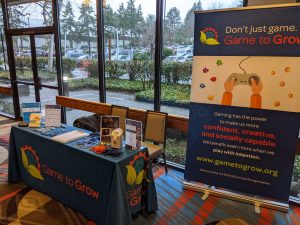 OrcaCon is a fantastic organization with an emphasis on diversity and inclusion in gaming.  The con has free-play areas, food trucks, and a merchandise hall, so come check it out!   They also have a great panel lineup, and Game to Grow will be featured on three of them through the weekend.
Learn more about OrcaCon and buy passes here.
Our panel schedule is below:
Friday, January 10  – 4:30pm
GMing for New Players
How do you give new players the best experience possible? Hear from several GMs on how to put new players at ease and get them hooked on the hobby.
Panelists:
Kate Baker • Luis Loza • Joseph Carriker • Adam Davis • Tanya DePass
https://orcacon2020.sched.com/event/Xzph/gming-for-new-players
Friday, January 10 – 7:30pm
Dungeons, Dragons, and Social Development: How Role-playing Games Help Us Grow
Role-playing games of all kinds have the power to make us better people, even more when we play with intention. Come hear Adam Davis and Adam Johns, founders of Game to Grow, as they share how they role-playing games to help neurodiverse teenagers become more confident, creative, and socially capable. Hear stories from therapeutic game table, learn about how to make your game more accessible and enriching, and celebrate how the games we love can help us grow.
Panelists:
Adam Johns • Jeremy Crawford • Elizabeth Kilmer
https://orcacon2020.sched.com/event/YXwz/dungeons-dragons-and-social-development-how-role-playing-games-help-us-grow
Saturday, January 11 – 11:30am
Charlatanry and Chicanery: Gamemastering on the Fly
Deep wells of research, reams of notes, and mountains of game statistics–these are all good Game Mastering tools, but there's one skill that can't be prepared: improvisation. The best GMs can create memorable experiences for players out of nearly any challenge, whether the players' decisions have entirely derailed their plans or the players just aren't picking up the hints they're dropping. In short, being a good GM is about being a consummate BSer. Join the best BSers in the business for tips, tricks, and philosophies, plus answers to your questions about how to handle the most challenging scenarios players might throw your way.
Panelists:
Amanda Hamon • Graeme Barber • Adam Davis • Lynne Hardy • Carmen Marin • Mike Robles
https://orcacon2020.sched.com/event/Xzph/gming-for-new-players