We're so excited to announce a collaborative fundraising event partnering with Penny Arcade's "C" Team and Crawlspaces & Critters!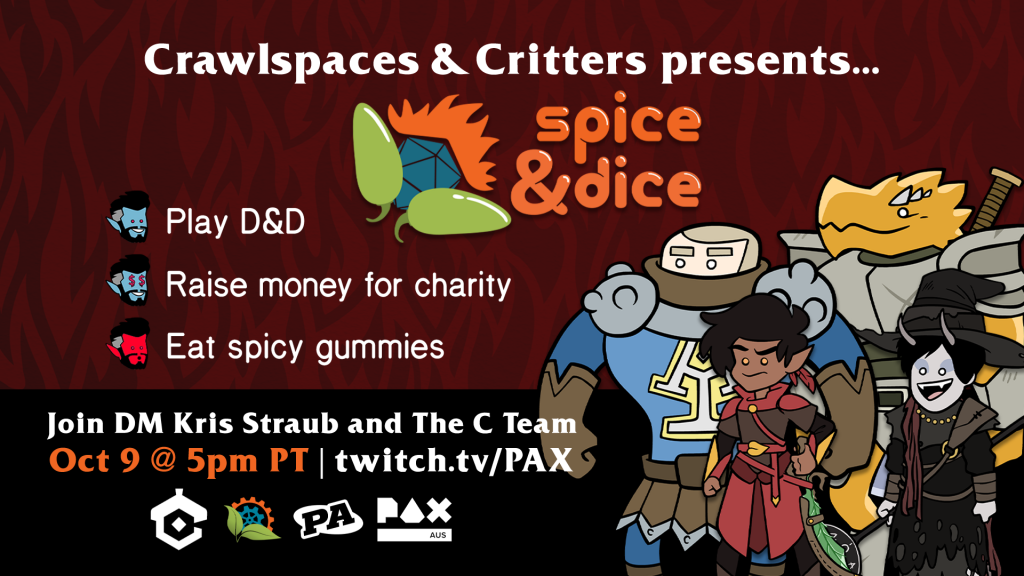 Spice & Dice is a special event benefiting Game to Grow's nonprofit mission, mixing the action and excitement of Dungeons and Dragons with the extreme heat of spicy chili peppers! In this unique one-shot D&D event, as viewers and donors raise funds through the various fundraising platforms, players will eat spicier and spicier chili-infused gummy goblins, resulting in hilarious antics in and out of the game…and it's all for a good cause!
On October 9th at 5pm PT as part of PAX Aus Online, Game to Grow founder Adam Davis will join DM Kris Straub in a "C" Team game alongside Jerry Holkins, Trystan Falcone, Ryan Hartman, and Holly Conrad. As donations come in, Adam will join the rest of the players in eating spicy gummy minis specially created by Crawlspaces & Critters for this event.
Enter your email below to join the fun! You'll get reminders and first-looks leading up to the event!
Interested in sponsoring Spice & Dice?
Spice and Dice will be broadcast live on twitch.tv/PAX to hundreds of gamers, and viewed on-demand afterwards by even more people around the world. Would you like to have your logo or product highlighted during the event? Click here to get involved!