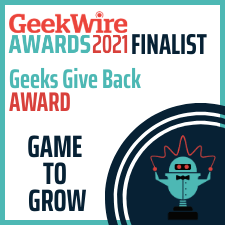 We are humbled to have been nominated for a Geeks Give Back award from Geekwire!
We were nominated as part of our partnership with Foundry10 and our research initiatives exploring the benefits of Game to Grow's therapeutically-applied Dungeons and Dragons groups.
There are some other great nominees in multiple categories, and you can cast your vote in support of Game to Grow!
Click here to place your vote!
Click here for the original article in GeekWire about Game to Grow, and if you'd like to register for the event, click here to find out more!