This last Saturday, Game to Grow presented the afternoon keynote at the Washington Association of Marriage and Family Therapy 2018 Annual Conference! It was an amazing opportunity to share with a brand new audience the power and impact of intentional therapeutic gaming.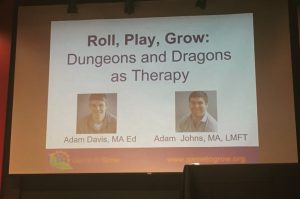 The audience full of therapists were very receptive to the re-framing of Dungeons and Dragons, as well as other role-playing games, as a therapeutic tool.  We began with a playful activity to disarm the audience and introduce the concepts of scaffolding and play which would be introduced later in the more didactic portion of the keynote.
The presentation covered the mission of Game to Grow, and how to use games ethically in a therapeutic practice.  According to the AAMFT code of ethics, a therapist can maintain a therapeutic relationship with a client only as long as the client is benefiting from the relationship.  We polled the audience, and many of them play games of some sort with their clients. We addressed the concern:
"How do you know playing a game with your clients is meeting the ethical imperative to serve them therapeutically, instead of just filling time with a fun but meaningless activity?"
Adam Johns then shared a story from his time as a private practice clinician, about how he used the game Uno with a resistant client to improve their rapport enough to transition into therapeutically beneficial "traditional" talk therapy.  Games have the power to improve relationships, and the rapport between the client and therapist is one of the most important factors in positive therapeutic outcomes.
However, games have more potential than just building and strengthening relationships.  Game to Grow's mission is based on the premise that games of all kinds have the power to improve people's lives, that the benefits can be enhanced when games are played with intention, and that the positive potential can be maximized if facilitated by a trained professional. Just as talk therapy is a conversation wielded as a tool by a trained professional, games can be used as a tool by a therapist or facilitator with powerful benefits.
The rest of the presentation was used to explain a central point of Game to Grow's mission and the title of the presentation: Dungeons and Dragons as therapy, as well as share several stories from our seven years of experience in the field. Before we could explain the details of our us of role-playing games in therapeutic social skills groups, we had to share what a role-playing game actually is since many of the audience were less familiar, how they look when played casually, and then how we re-conceptualize it as a tool for therapeutic growth and change.
We described how the term RPG, or role-playing game, is not as useful as a slightly longer acronym, CRPGSG, to describe what a game like Dungeons and Dragons actually looks like.  A CRPSGC is a Collaborative Role-Playing Story Game of Chance.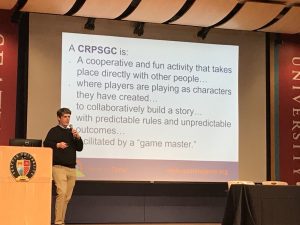 Later we explained our therapeutic use of CRPSGCs as DRSADPBNT.  After all, as we joked with our audience: therapists, like educators, love big words and long acronyms.
We also featured a fish-bowl where Sarah Jones and board member Kirk Honda came up from the audience to play a simple role-playing game on stage to show the audience what a CRPSGC looks like in practice.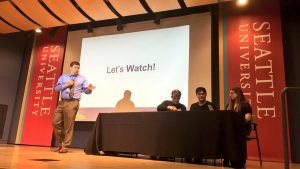 Because our keynote was part of the ethics track, we also reminded the audience of the ethical requirement to be trained in a skill or technique before implementing it with a client.  We shared about our upcoming project Critical Core, and how it will be designed to be accessible to therapists new to RPGs.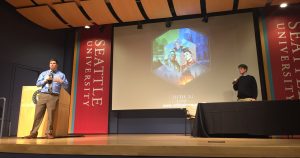 We are so grateful to the WAMFT for inviting us to present this keynote, and look forward to other opportunities to continue sharing our work with more therapists, educators, and advocates!
We'll be presenting for the Pierce Country Counselor's Association on Friday, November 16th!  Stay tuned for more details!
---
Were you at the conference? Did you miss out and want to know more? Keep the conversation going on Facebook and Twitter!
Click here to learn more about what we do, and if you're interested in scheduling a training or consultation about RPGs used for educational or therapeutic outcomes, click here.