Back in October, I had the opportunity to chat with Adrian Petterson, a PhD student at the University of Toronto studying inclusive design in gaming and host of the Inclusive Gaming 102 Podcast about Game to Grow's therapeutic use of games like Dungeons and Dragons, a little bit of our nonprofit history, and my personal journey as an adolescent that mirrors many of the stories lived by our youth participants.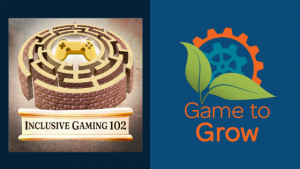 You can listen to the Podcast here, and find links to your podcast player of choice.
*Correction: In the podcast introduction Adrian states that I am a licensed drama therapist.  I am trained in drama therapy, but I do not hold a license.  There isn't technically a license in Washington State for drama therapists.