During the COVID-19 pandemic, Game to Grow partnered with the Seattle-based education research organization, foundry10, to evaluate the social and emotional learning that occurs in our tabletop role-playing game (TTRPG) programs for youth. The white paper has been published, sharing research findings and actionable insights. Click on the link or image below to read:
The 30-page white paper explores the details of the study and the findings, but these takeaways stand out: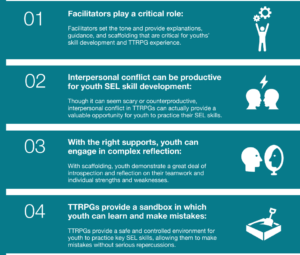 Facilitators play a critical role:
Facilitators set the tone and provide explanations, guidance, and scaffolding that are critical for youths' skill development and TTRPG experience.
Interpersonal conflict can be productive for youth SEL skill development:
Though it can seem scary or counterproductive, interpersonal conflict in TTRPGs can actually provide a valuable opportunity for youth to practice their SEL skills.
With the right supports, youth can engage in complex reflection:
With scaffolding, youth demonstrate a great deal of introspection and reflection on their teamwork and individual strengths and weaknesses.
TTRPGs provide a sandbox in which youth can learn and make mistakes:
TTRPGs provide a safe and controlled environment for youth to practice key SEL skills, allowing them to make mistakes without serious repercussions.
This is why Game to Grow engages in the life-enriching work we do using tabletop role-playing games with youth and adults, and why our mission includes helping others use games of all kinds to support their own communities. We discuss the facilitation skills and approaches to the intentional facilitation of TTRPGS in our training program. Click here to learn more.
We are proud to partner with foundry10 to lead and further research for TTRPGs and gaming. Want to be updated when future research is published? Sign up for our monthly newsletter!