We just returned from PAX South, where we presented at our seventh PAX since 2015.  PAX South is one of our favorite times of year.  The audiences are some of the most responsive and fun, and this year was the one to beat!
We presented twice at this year's PAX South.  The first panel was called "Don't Just Game. Game to Grow!" (a reference to the tagline from our IndieGogo).  At that panel we discussed how we use games in our therapeutic social skills groups,  using Dungeons and Dragons and tabletop games, as well as our expansion into the use of video games for personal growth.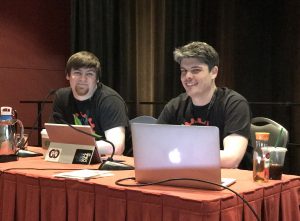 Our second panel was a fantastic experiment.  It was called "Collaborative Homebrew 101: The Cure for the Common Murder Hobo."  In this panel we tried something brand new: We created a map and adventure hook with the audience the same way we create maps and adventure hooks in our Dungeons and Dragons groups.  For those who aren't aware, the term "murder hobo" is a mostly pejorative term for when player-characters in a role-playing game wander around mostly aimlessly, indiscriminately killing, stealing, and sleeping in alleyways.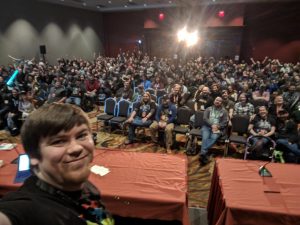 In the panel we discussed why this happens, what game masters can do about it, and how we help players in our groups feel connected to the story in which they are playing.  We did it all live with the audience. It was great fun!
We made a map with the audience and created some adventure hooks with some volunteers.  Here's the map we made: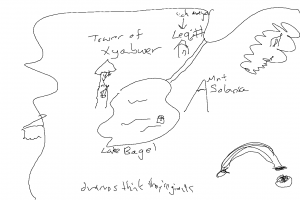 This map was created with the help of over 200 people!
The audio was recorded by the fine folks over at Role Playing Public Radio.
Listen to the audio here.
We'll be presenting at Emerald City Comicon in Seattle in March.  More details coming soon!