Game to Grow was featured in an article by Clary Estes in Forbes about the therapeutic benefits of Dungeons and Dragons. The article explores some of the benefits of role-playing games for kids and teens, and adults, and features many quotes from Game to Grow parents around the growth they have seen in our game-based social skills groups.
To read the full article, please click here: How Dungeons And Dragons Is Helping Kids Open Up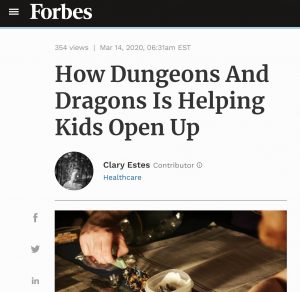 ---
For more information about the therapeutic groups we run using games like Dungeons and Dragons, please click here, and please keep the conversation going on Facebook and Twitter!