Game to Grow was founded in 2017 by Adam Johns and Adam Davis. Before founding Game to Grow, they founded and ran the organization Wheelhouse Workshop from 2013 to 2017, which provided therapeutic social skills groups in the greater Seattle area using tabletop games.  Game to Grow was founded as an evolution and expansion of the model created by Wheelhouse Workshop in order to reach a broader audience of players with a larger range of therapeutic goals than was previously possible.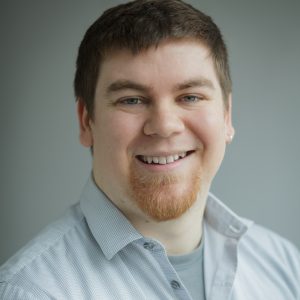 Adam Johns, LMFT earned his Master's degree in couple and family therapy at Antioch University after earning his Bachelor's in Psychology from the University of Arizona. In addition to his work with Game to Grow, Adam is a therapist in private practice. Adam Johns has been playing tabletop role-playing games for 20 years, and is very involved in the geek community.

Adam Davis, M.A.Ed. earned his Master's degree in Education with a focus in drama therapy from Antioch University Seattle, and is a recognized member of the North American Drama Therapy Association. Adam is a contributing author to The Walking Dead Psychology, and has also served as a public school teacher. In addition to working with Game to Grow, Adam developed the CoRe Gaming program at the Atlantic Street Center, utilizing video games to teach dialectical behavioral therapy skills
Media & Appearances
Davis and Johns have spoken around the country about their work, addressing audiences at the Penny Arcade Expos in Seattle, San Antonio, and Boston; Emerald City Comicon; OrcaCon; and Save Against Fear, a convention in Pennsylvania about the therapeutic use of gaming.
They have appeared on podcasts and Twitch streams, and their work has been covered by respected gaming and other news outlets, both nationwide and internationally.
Johns and Davis also returned to their alma mater, Antioch University Seattle, to teach two Masters-level workshop in the use role-playing games in clinical practice. For more information regarding training opportunities, click here.